OUR MISSION
Our mission at Flight House Gym is to elevate the health, well-being and confidence of anyone who passes through our doors. We hold ourselves to the highest possible standards and lead, always, with our foundational core values: Humility, Ownership, Unity, Service and Equality, in order to fulfill our commitment to creating a stronger community. Our gym is a place for people to come together in an inclusive and positive environment in order to help one another be a little better every day. A place where hard work, sweat and grit aren't just welcomed, but encouraged.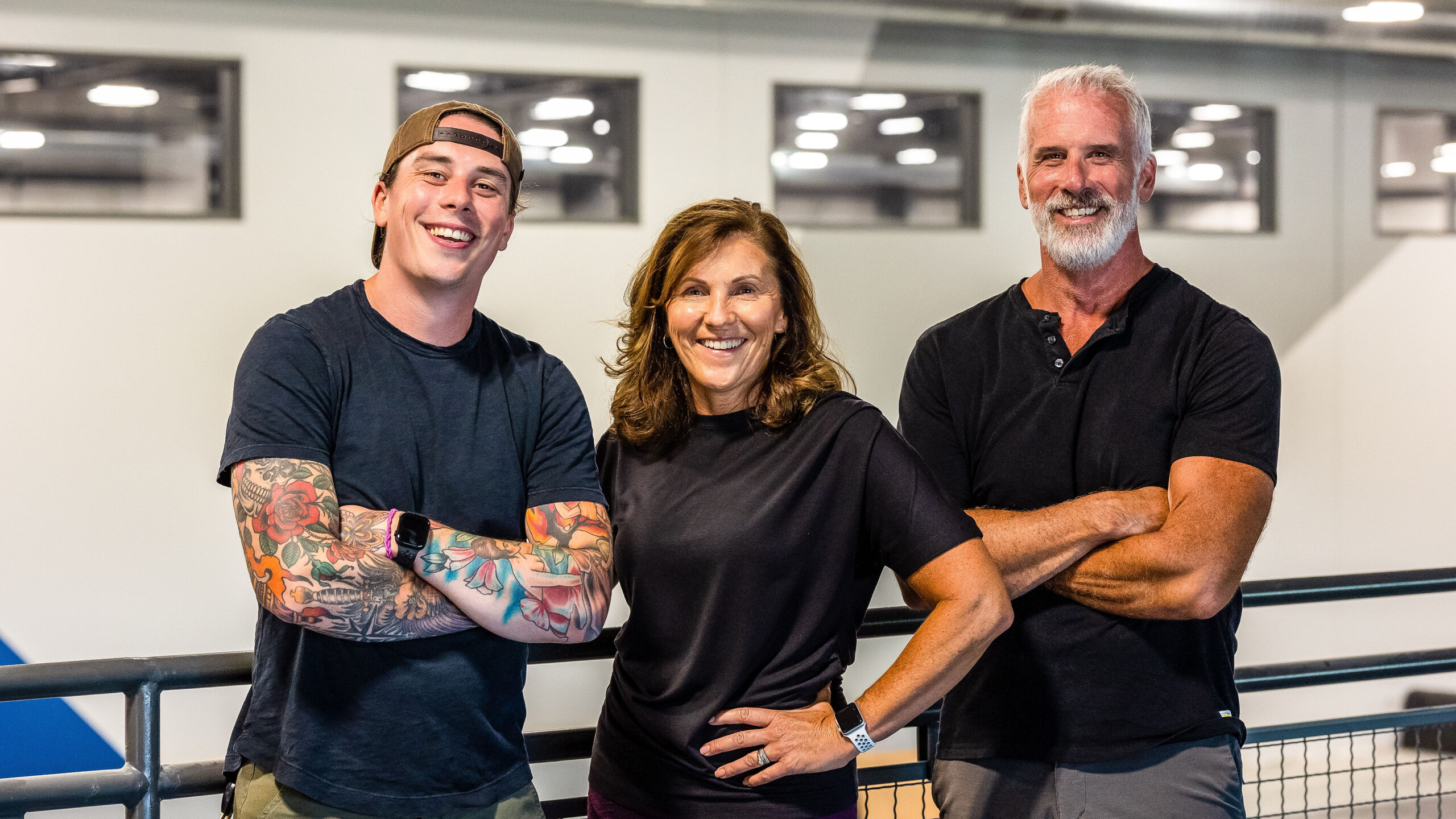 OUR HISTORY
Flight House Gym was founded by Jay Collins, his wife Nancy and his son Jack. Truly a family business from the start. They opened MaxEdge Fitness Training in Hampton NH in the fall of 2011 where they led innovative group workouts for people of every fitness level and ability, with class sizes ranging from a handful to over 120 people at once. It was at MaxEdge where they honed their craft of formulating a fun and unique fitness experience that undeniably improved the health, strength and conditioning of their members. After over a decade, thousands of group workouts and watching their community grow, they decided to take their product to a larger setting in which all the worlds of fitness and health can collide. Hence, Flight House was born! A gym for EVERY fitness enthusiast. A gym with tried and tested group fitness classes lead by experienced professionals in a fun environment but also a gym to use at one's own desire, with all the state-of-the-art commercial equipment that would be suitable for any fitness goal.
Tiffany will tell you that her superpowers include asking curious questions, listening without judgment, problem solving and helping her clients uncover their best path to a life of confidence, health and happiness. With a background in Tae-Kwon-Do and an all-around athlete growing up, she has always gravitated towards strength and movement - taking that drive a step further with pursuing advanced training in a variety of different modalities and techniques including CrossFit, Kettlebells, Barbells and TRX. She has also worked alongside some of the top industry leaders in behavior change, nutrition, and recovery. It is through that experience that she saw, firsthand, what self- belief, trust and awareness can bring on the journey towards deep health, in all areas and dimensions of a person's life. She has spent 20+ years (and counting) in the fitness industry, as a personal trainer, group fitness instructor and nutrition coach, helping to educate and empower those she works with on how to improve their relationship with their bodies, food and movement. Through positivity, compassion and partnership, it is her goal to create amazing experiences that allow her clients to realize their potential and live a life they truly love.

Chase is a NASM certified personal trainer with experience leading classes and one on one training sessions. He's a bodybuilder who's competed in the WNBF Worlds, has 9 years of lifting experience, and nutritional knowledge. He designs training programs based on clients needs and personal goals. Knowing how to create specific programs and give nutritional advice to get results in an enjoyable way. Outside of the gym, Chase enjoys making fitness content, riding his motorcycle, and snowboarding in the winter.

Marissa is a lifelong fitness enthusiast having grown up working in and working out in Seacoast area gyms. The oldest of five athletic siblings, they made fitness the family business. Keeping the tradition alive, Marissa, John and their three daughters (Isla, Evyn and Saoirse) can be found on the Flighthouse floor training and soaking in the gym culture. Club soccer, skiing, swim team and lacrosse keep them all busy and Marissa can be seen on the sidelines coaching multiple Hampton Riptide lacrosse teams each spring. Marissa is sure to include dynamic and explosive movements into her programming. She can coach the appropriate progressions to ensure that clients of all abilities have the power to fuel an active lifestyle. When not on the gym floor, the sidelines, the slopes, or the shore, Marissa might be home watching Formula 1 racing while knitting hats and scarves for the girls.

Kim graduated from the University of New Hampshire with a degree in Exercise Physiology and Pre-Vet Medicine. She is certified by the National Strength and Conditioning Association and the National Academy of Sports Medicine. She has more than 25 years of experience in individual and group exercise instruction, customized training plans, fitness assessments, and pre/postnatal exercise.  She has worked extensively alongside physical therapists and specializes in tailoring exercise prescriptions to efficiently and effectively assist clients in achieving their goals. Kim is a mom of 2 teenagers as well as a competitive equestrian rider and competes throughout the year.  She strives to inspire you to be a stronger and healthier through thoughtful movement, nutrition and community.

Chris Loch aka Coach Topher, is a CPT & Nutrition Coach through the ISSA. Chris has trained many individuals as well as small groups in his years as a trainer. Chris's fitness philosophy is that there is no one right way to become fit, but there is a way for everyone. Focused on prolonging quality of life and physical ability, he enjoys resistance training and conditioning. He works closely alongside chiropractic and nutrition professionals to ensure his methods produce results. Chris is a lifelong basketball player and sports fan, playing overseas in the Coca Cola invitational tournament in 2016. He enjoys hiking and long walks through the mountains with his partner Justine, riding his motorcycle slightly over the speed limit, and as a family tradition, he makes the best fudge you've ever had every Holiday season.

Jill grew up in an athletic family where fitness was a priority. She always remained loyal to her roots, and decided to turn her passion into a career. Jill started off teaching yoga and then decided to add some strength training, which she fell in love with immediately. This led her to receive her Kettlebell Athletics Certification in 2021. Her background in yoga has helped her succeed in many ways, but especially when it comes to getting out of her own head to push through challenging workouts, and motivating others to do the same. Outside of the gym, you'll often find Jill out exploring local trails, with a coffee in one hand and her pup's leash in the other. She also has a passion for travel and trying/cooking new foods with her husband Joe. With a degree in videography, you'll also see Jill around with her camera - now both in and out of the gym!

Nicole has 16+ years of group exercise and small group training experience having taught numerous formats (Bootcamp, Aerobics, Step) at gyms like Bally Total Fitness, LA Fitness and NYSC. Some of her certifications include AFAA Primary Group Ex, AFAA Kickbox, Kettlebell Concepts, and TRX Skills. Highlights of her personal fitness journey include running a half marathon, full marathon and competing in a handful of fitness competitions where she won the WBFF figure short division. Outside of the gym Nicole enjoys being in the fresh air as often as possible, wine tasting, venturing to new restaurants with her husband Patrick and reading.

Jonathan is a High Performance Coach and Educator for USA Boxing. Boxing is his passion! He helps run a non-profit boxing gym in Haverhill, MA. He trains several amateur and pro boxers, as well as people who just love the fitness benefits. When not in the gym he enjoys competing against his adult children in Triathlons, boxing, basketball, Spartan races or pretty much anything. He was lucky enough to complete the Escape from Alcatraz swim a few years ago. He still boxes competitively in the Masters Division of USA Boxing. In his free time he has a full time job as Haverhill's Fire Inspector. He looks forward to implementing the boxing program at Flight House and getting everyone excited about boxing and the many health benefits it brings.

Gabe is a licensed boxer and Golden Glove Champion in the Light Heavyweight Division. He is experienced with group and 1:1 boxing instruction. Gabe sits on the Board of Directors of a local nonprofit boxing gym that caters to at-risk teens and young adults. Gabe studied various types of martial arts growing up, which led him to his interest in boxing. In his spare time, he enjoys running and sparring, camping, and spending time outdoors with his wife and two young sons.

Josefine was born and raised in Lanskrona Sweden, playing professional soccer for over a decade. After traveling to the states and working as an Au pair, Josefine met her future husband and they, along with their 2 children, now call the New Hampshire Seacoast area home. Josefine has been working with children since her teens, and loves the curiosity, personalities, and joy that children exude. Providing a safe and inclusive environment for the children, while maintaining a friendly environment with positive vibes, is the main goal of the child care program. In her spare time, Josefine loves spending time with her family, running & weigh training.

Purchase a Membership

Never any long-term contracts!